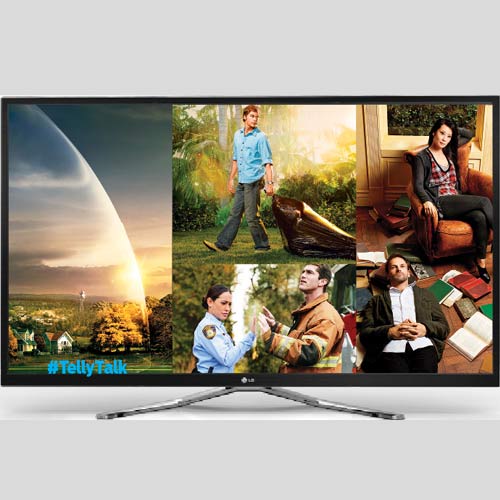 A drawing room with two-staircases descending, gigantic chandeliers being out-shined by the amount of bling everyone's wearing. Mala's plotting to incite Deepak into a fight with Sneha so that her friend Priya can have revenge for the way her mother was insulted in a wedding. Names change
as do settings, but have you wondered why irrespective of which entertainment channel you watch, the shows on air not only have similar plot-lines but seem to be extensions of each other?
"That's because there's such little original material to go by," laughs film historian Mukund Joshi, "What you watch unfold are twists and turns dictated by TRPs." He blames production houses.
"We have such wealth of material in our literary works, which is not only respected national are getting feted internationally after being translated, but nobody seems too interested in going there." He is quick to add, "When you watch what happens to classics like Govardhanram Tripathi's Saraswatichandra though, you can only hope no other literary work is subject to this."
Most non-Gujaratis know Saraswatichandra set-in 19th-century feudal India from its classic adaptation into the black & white Hindi classic film in 1968 by Govind Saraiyya (starring Nutan and Manish) which won two national awards. But in the latest television avatar the saas-bahu hang-over is an overkill with loud music, costumes, make-up, lighting worsened by the flashes and crash zooms.
*Them*
While TRP-driven logic drives content on Hindi and regional channels, shows on niche English ones like Zee Cafe, Big CBS Love, HBO like Dexter, Gossip Girl, Game of Thrones, Under the Dome, Elementary and Walking Dead - all based on books – are doing really well. Celebrated author Stephen King, whose novel (with same name) the soon-to-hit-air science-fiction horror show Under the Dome (UTD) produced by Steven Spielberg's Amblin Entertainment - is based on, feels there are several advantages of adapting a novel to TV. "The thing that TV has all the time in the world to spread out and tell a story. I've been so behind this concept of serial TV, since stories are able to develop in a way, that say, a Dickens novel developed in the 19th Century," he says. The man whose work was also behind the popular series Lost, points out how it's exactly the same idea. "When novels hit their stride in the 19th Century, people said, we have all the space in the world and wrote novels that were four-five volumes long. They were these big, thick things. TV has that same ability to create things like Lost and Downton Abbey. And hopefully Under the Dome. Where you've got the time, people come back, they get to know characters and get involved. And it almost becomes a part of their lives." Known for his brilliance with both comic books and scripts, Brian K Vaughan who has penned the tv adaptation of King's work agrees with the author but admits to pressures of expectations.
"I'm not a huge fan of adaptations—if you got something right the first time, it doesn't need to be redone. But this is new. The book will always be there. I'm hopeful that lovers of King's work will be generous enough to see that we haven't damaged it." He pointed out how it was reassuring to know that King likes it.
"It makes it a lot easier to sleep at night. He knows the book is his own thing and that it'd be boring to just translate the book exactly to screen. But the themes and the heart of the book are in it. But we definitely do take them to some new and unexpected places.
For example, I love The Walking Dead as a comic book, but I'm so grateful that the TV show isn't just an exact adaptation that it feels like - you get something new each week."
Apart from UTD, Big CBS which has two other shows Dexter (based on Jeff Lindsay's book of the same name) and Elementary (a contemporary update of Sir Arthur Conan Doyle's character Sherlock Holmes set in the United States) based on books on air. Channel business head Anand Chakravarthy feels TV is only following films on adaptations.
"Adaptations amplify popularity of the series by taking compelling stories to an even larger audience of those who aren't vociferous readers. With TV, the series are given time and space to explore deep into the layers and textures of the book." He admits his personal favourite among adaptations are Stephen King's.
"No wonder his body of work has been replicated numerous times for TV."
Apart from Gossip Girl which has remained a favourite amongst women (16-34), Zee Cafe which has had adaptations like Poirot, Pretty Little Liars, and Carrie Diaries admits that the energy of the published work should come across in the tv version too.
"The tremendous response to these shows on our social media collaterals like facebook and twitter indicates this is working for us," says the spokesperson.
*...and us?*
On wonders why viewers of Hindi and regional channels are denied the joy of such adaptations from literature? After all literary work adaptations weren't rare to come by on the small screen from early 80s to mid 90s. Long before the advent of cable, Doordarshan gave us brilliant adaptations like Shyam Benegal's Bharat, Ek Khoj (Discovery of India by Jawaharlal Nehru) which had among its cast Naseruddin Shah, Om Puri, Alok Nath, Salim Ghouse, Tom Alter, Kulbhushan Kharbanda Govind Nihalani's Tamas (based on a book with the same name by Bhisham Sahni), Byomkesh Bakshi based on the fictional detective created by Sharadindu Bandyopadhyay's Bengali series (a big screen come-back of which Rituparno Ghosh was wrapping up with Kahani director Sujoy Ghosh reprising the lead), Saratchandra Chattopadhyay's period drama Shrikant (starring Nutan, Farookh Sheikh and Utpal Dutt) and the immensely popular Marathi series of the mid 80s Shwetambara (The Woman In White by Wilkie Collins)," remembers Joshi. In fact he recalls how the I&B minister P Upendra in the VP Singh government had got the series Rathachakra (starring Lalan Sarang) based Shripad N Pendse's Sahitya Akademi award winning novel with same name banned. "It was seen by then beleaguered government as too pro-dissent,"
*Beginning & the rot*
It all began on July 7, 1984, when the only television channel in the country began beaming a daily series on the travails of an Indian middle-class family of the 1980s and their daily struggles and aspirations. The much loved show was inspired from what the Indian then Information and Broadcasting Minister, Vasant Sathe saw on a trip to Mexico in 1982. On his return, he invited writer Manohar Shyam Joshi to script the series, directed by noted filmmaker P Kumar Vasudev. Such was its reach that the Faiz Ahmed Faiz poem made into the title song under legendary composer Anil Biswas' baton was on everybody's lips.
Without any loud acting, flashes and crash zooms it went about weaving a tale with a message of hope in the end by the veteran Ashok Kumar, had the nation in bind. When Buniyaad tried to recapture the same magic from 1986, it too made a stupendous impact with roads being deserted when it aired. But soon the number of ads and the number ad breaks began to grow. And things began going downhill.
Today a half an hour episode can actually be between only 19 to 22 minutes of actual content. While lamenting commerce-driven-content on TV, Shyam Benegal explains, "Channels want to provide content drawing advertising revenue from products targeted at a group with certain kind of exposure, literacy and lifestyle. Since they are basically seeking a slice of the same pie, content looks alike on all popular entertainment channels." He also brushes off English channels as "limited in scope," and points out, "Their reach is so niche and small that there can be no comparison with Hindi and regional popular entertainment channels.
Besides they often piggy-back on the popularity these adaptations have enjoyed in Europe and America where they air first." So are we condemned to the stranglehold of the saas-bahu brigade on TV? "No," he laughs, "But the remote is in the hands of the one on the couch and s/he will have to press the button for change."